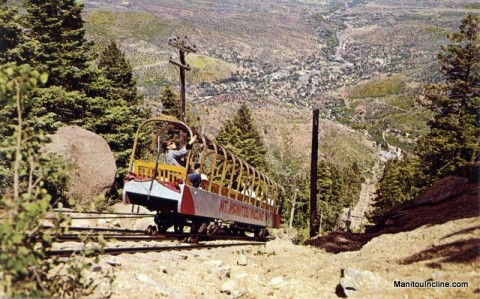 I found this postcard of the Manitou Incline cable car a little below the top. In it you can see the pulleys in the center of the tracks for the cables. Click for a larger image to see the pulleys better.
On the back the text says, "The thrilling mile and a quarter ride on the Mt. Manitou Incline affords passengers with superb panoramic views: Manitou Springs nestled in the valley below, Garden of the Gods, and an unending expanse of the Great Plains."
It doesn't have any date on it. My initial thought was that it was from the 70s because of the color and the way the guy is dressed. Then I noticed that the US Highway 24 Bypass wasn't build yet. It was built in the late 1960s so the photo has to at least before that.