2018 Manitou Incline Calendar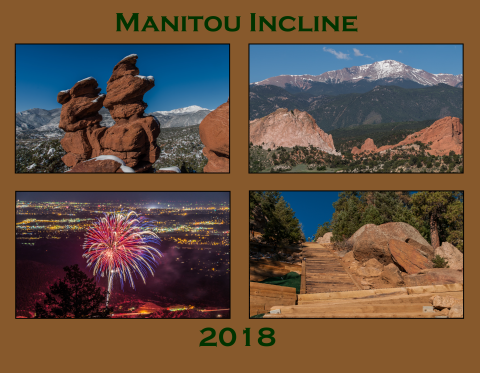 For 2018 you can have a calendar showing your favorite hike hanging on your wall. Not only that but a portion of the purchase price will go to the Incline Friends to benefit the Manitou Incline.
$3 per calendar will go to Incline Friends.
The calendar is a standard wall calendar with each page 11×8.5 inches (11×17 when hanging open). See below for the photos on the calendar. There's also one for December 2017 so you can start using it as soon as you get it.
Have questions? Contact me here.
Have the Manitou Incline calendar shipped to you. $4 shipping for 1st calendar and $1 for each additional (US only shipping).

$7.95 $16.95


Pick up the Manitou Incline calendar and not pay shipping. Only select this option if you've already arranged pickup.

$7.95 $16.95