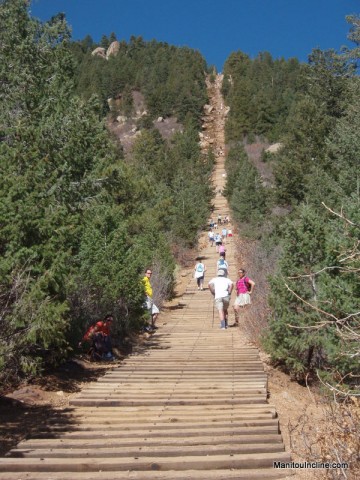 The Manitou Incline is only 1 mile but climbs 2,000 vertical feet. So how long does it take people to hike up it?
Times of under 20 minutes for world class athletes pass around the local hiking community and in news articles. I have some friends that can hike the Manitou Incline in the low 20 minutes. My best time over 10 years ago was 29 1/2 minutes. I'm much slower than that now.
Colorado Springs has many very fit athletes so there are plenty of people hiking the Manitou Incline in under 30 minutes but from what I've seen the average Incline hiker is making it to the top in 40 – 50 minutes. Many first timers and people from lower elevations are taking over an hour.
The accepted spot to time yourself is from the bottom tie right above the Pikes Peak Cog Railway parking lot. Stop timing at the last tie at the top. It seems a couple of ties have disappeared from the top over the last several years but it probably doesn't change the time.
Don't be fooled by these times. These times and the times people talk about are just for going up the Incline. There's no way to magically end up back at the bottom so you need to factor coming back down into your hiking plans.
Although the rules for using the Incline stop short of prohibiting coming back down the Incline, they recommend one way up. The most popular way to get back down is to go to the left and then go down a social trail to the Barr Trail. There are a few steep loose sections on the social trail so use caution. Going this way down takes about 40-45 minutes at a quick walking pace.
There are a few places with Manitou Incline times listed. Out There Colorado has created an Incline Tracker for people to enter their times and compare their times to others overall or in their age group. Pikes Peak Sports has a Manitou Incline honor roll. The Incline Club has more official times from when they used to "run" the Incline before the No Trespassing sign was put up in June of 2000.