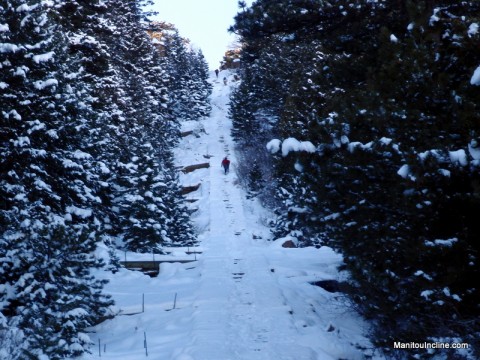 Yes, you read the title correctly. It looks like it's literally going to take an act of the US Congress to legalize hiking the Manitou Incline although it'll take even more than that.
The Incline Friends found out last summer that the federal government has to declare railroads abandoned before the land can be used for something else. There was confusion about whether it applied to the Incline since it was only a mile long and didn't connect to another tracks. At the Incline Friends Membership Drive in January, one of the board members said that they didn't have final word but thought it wouldn't be a problem.
Now it's become clear it'll take an act of Congress to allow the U.S. Forest Service to accept the Manitou and Pike's Peak Railway's relinquishment of their right-of-way. A couple weeks ago Congressman Doug Lamborn (CO-05) introduced H.R. 4073 to address the Incline right-of-way.
"This is just one of many necessary steps needed to hopefully open the Manitou Incline. I want to recognize and thank all those in Manitou Springs and Colorado Springs who have been working on resolving this issue for years. This Act of Congress addresses an obscure territorial-era law on the federal books related to railways. I have every expectation that this bill will move quickly through the House and could become law as early as this Spring, pending passage in the Senate. This bill does not resolve all the issues necessary for legal access to the Incline, but does solve the critical federal roadblock." — Doug Lamborn (CO-05)
Two more big steps for legalizing the Incline take place on February 28, 2012 when both Colorado Springs and Manitou Springs city councils are to vote on the inter-governmental agreement for managing the Incline.