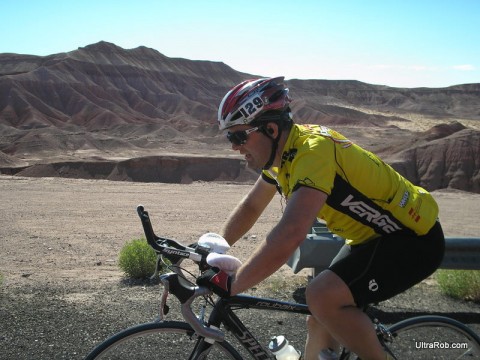 The Race Across America (RAAM) has been called the world's toughest bike race. It is approximately 1.5 times the distance of the Tour de France but has a time limit of 12 days instead of the 3 weeks that the Tour de France takes. That makes for a minimum of 250 miles a day. RAAM racers are on the bikes 20+ hours a day and ride alone instead of in a pack.
You might wonder what it has to do with the Manitou Incline. A movie about RAAM is being used as a fundraiser for the Incline Friends. Bicycle Dreams is a feature-length documentary about the 2005 RAAM. It was won awards at many film festivals over the last few years.
The Bicycle Dreams fundraiser is on Wednesday, March 28 at 7 PM at the Stargazers Theatre. Tickets cost $11 in advance online at imATHLETE or $15 at the door. Tickets are also available at the Colorado Running Company, 833 N. Tejon, and 9275 N. Union, Suite 120; Carmichael Training Systems, 600 S. 21st; Criterium Bicycles, 6150 Corporate Center Dr., and Team Telecycle at 615 S. Baldwin St. in Woodland Park.
There will be 2 RAAM finishers at the movie showing to tell about their personal experiences. Fred Boethling set a new record in 2006 for the 60+ age category. He is now the organizer for RAAM.
You can read a Bicycle Dreams review here. If you want to more about RAAM, you can read a Race Across America FAQ here.