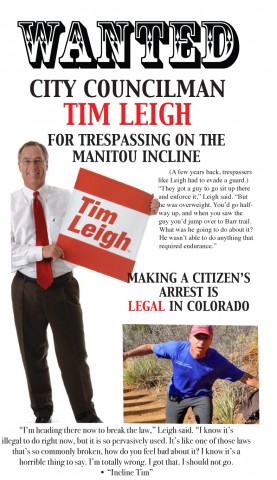 A couple days ago we asked whether you thought it was OK to trespass on the Manitou Incline. This was because one of Colorado Springs' councilmen makes no secret that he regularly hikes the Incline.
Now local musician Chuck Snow is calling for a citizen arrest of Tim Leigh. "It is NOT currently legal to trespass on The Manitou Incline, and here we have one of our city council members (Tim Leigh) shamelessly breaking the law," Chuck Snow wrote in an email to his friends.
Tim Leigh says it could be turned into fundraiser for the Incline Friends. "Let's say the fine is $150 per time. Let's use this piece to challenge other Incliner's to bail me out by making a donation to the 'Bail-out Tim Campaign' for the benefit of the Friends of the Incline," Leigh wrote in an email to The Gazette.
You can read the rest of the story on the Gazette.
Here's a funny video of Gazette reporter Wayne Laugesen interviewing Leigh about his Manitou Incline trespassing. The video talks about Tim Leigh breaking Colorado Springs laws. The Incline is in Manitou Springs so he wouldn't be breaking Colorado Springs laws.