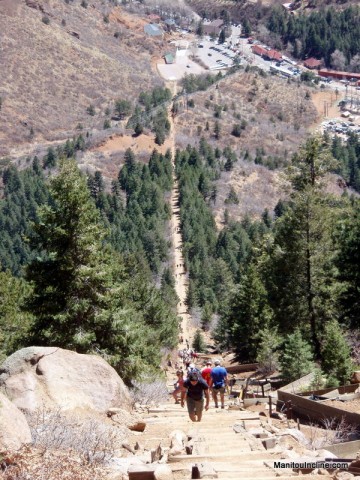 This afternoon El Paso County Search and Rescue and the Manitou Fire Department responded to the Incline after an off-duty paramedic reported he had ceased CPR on a woman. She was about 1/3 of the way up the Incline. Search and Rescue reported that it was an apparent cardiac arrest and that they were unable to revive her.
At this point, the only thing known about the lady is that she was 58. Some people may assume she wasn't in the best of shape but fit athletes have dropped dead from heart attacks. In fact it is now being reported that Ultra-marathon runner Micah True, who went missing in New Mexico in March, died of heart disease.
Our thoughts and prayers are with her family and friends.
A week and a half ago, search and rescue responded to a call for a hiker on lower Barr Trail. From what they reported, it sounded like he was having chest pains and had a cardiac arrest after they reached him. Fortunately they were able to successfully defibrillated him. It is unknown if had hiked the Incline or just been on Barr Trail.
On June 15, 2009, a man suffered a heart attack near the top of the Incline. Other hikers administered CPR but he was dead when search and rescue reached him.