Feeling Incline withdrawals while the Manitou Incline is closed repairs? Air Force Football has a challenge for you to prove you haven't been sitting around losing fitness.
Falcon Stadium will be hosting a first-ever fitness challenge, which will take place prior to the Air Force vs. New Mexico football game on Saturday, October 18. This challenge will take place on the stairs of Falcon Stadium, and will include a short and long course. The short course will be 886 steps on the Mezzanine level, and the long course will be 1,719 steps on both the Mezzanine and Upper levels.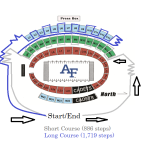 When it comes to the course for the Falcon Stadium Challenge, a picture is truly worth a thousand words. The image to the left (click for larger size) shows the course. Competitors will run up on one set of stairs between the seats and down the next as they go across the stadium level or levels depending on whether doing the short or long course.
Depending on the number of participants, competitors will be released from the start line in heats (20 per minute or so). Those doing the long course will start first and then the participants who are doing the short course will start.
The challenge isn't officially being timed but anyone who wants to time themselves are more than welcome to do so. The idea is to keep this inaugural challenge as simple as possible and motivate people of all levels to push themselves to just complete it and have fun instead of striving to beat a time or come in first place.
Registration for the Falcon Stadium Fitness Challenge is $30, and includes participation in the challenge, a game ticket for the Air Force vs. New Mexico game, a t-shirt, and a post-challenge recovery package.
Participants can head to Falcon Stadium for this event at 9:30 AM. The challenge will begin at 10:00 AM, and will end at 11:30 AM. Air Force will kick off against New Mexico at 1:30 PM. Spectators can also purchase game tickets for $22.
For more information, contact (719) 472-1895. To register online, click here.