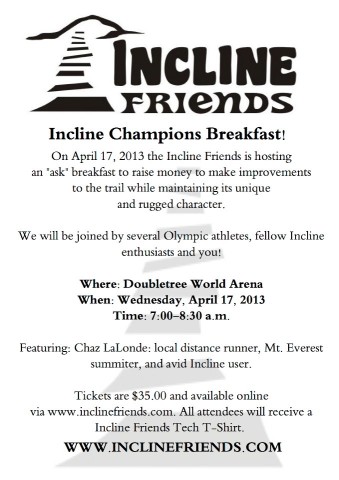 The Incline Friends are having an Incline Champions Breakfast at 7 a.m. Wednesday, April 17th, at the Double Tree World Arena, 1775 E. Cheyenne Mountain Blvd.
The Incline is a cherished landmark in our community. This will be an "ask" event, as funding is required to make improvements on the Incline while maintaining its unique and rugged character.
Climber and trail runner, Chaz Lalonde, will share stories of summiting Mount Everest in 2012. Several Olympic athletes will also attend. Enjoy a breakfast of champions and help preserve and enrich the Incline experience.
Tickets ($35) can be purchased on the InclineFriends.com home page. Everyone who attends will receive the Incline Friends Tech T-shirt at the event. See you there!