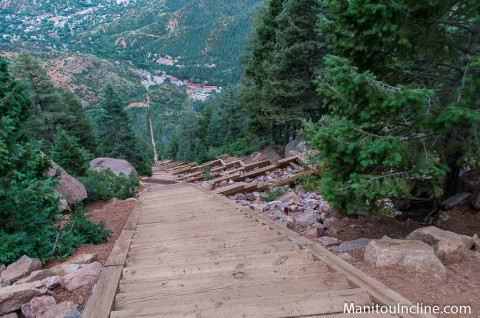 Update from the Iron Springs Melodrama mid-morning on Saturday: The incline is open the rest of the day today and will be open from 3:30 p.m. until 8 p.m. tomorrow. That is from the El Paso County Sheriff Deputy who is sitting at the bottom and it's fixing to leave, once again nobody puts out the right information about this thing.
---
The 2016 Pikes Peak Ascent is August 20th and the Pikes Peak Marathon is August 21st. Unlike past years, Colorado Springs Parks and Rec has decided to close the Incline for the entire weekend. This is an extra bummer since the
Incline closes for repairs
the following day.
Friday August 19th will be the last day to hike the Incline until early December. Members of the Incline Friends Board of Directors will be at the bottom of the Incline on the 19th at 7 AM and again at 6 PM to answer questions. They'll be handing out free popsicles. Rumor has it they'll also have tissues for those shedding tears over the Incline closure.