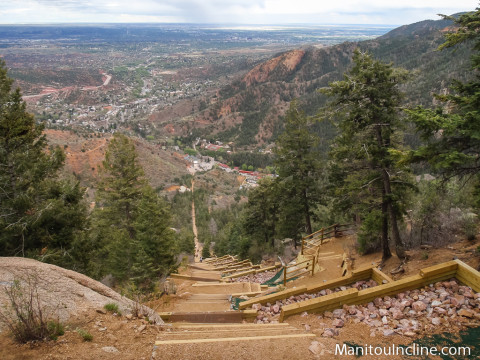 The Pikes Peak Ascent and Marathon are this weekend, August 15th and 16th (2015). The Ascent is on Saturday and the Marathon is on Sunday. About 1800 runners will head up Barr Trail Saturday morning and Sunday around 800 runners will go up Barr Trail to the summit and back down.
This year the city of Colorado Springs has decided that Incline users and that many runners on Barr Trail would be a bad mix. The Manitou Incline will be closed Saturday morning until 11 AM and it'll be closed until 2 PM on Sunday.
Runners will still be coming down Barr Trail after 2 PM on Sunday but should be fairly spread out. While you're returning on Barr Trail, please pay attention to runners coming up behind you and let them pass you. That's actually what you should do on any day.
The Colorado Springs City Parks Department highly recommends Incline users to refrain from using the Incline during this weekend due to congestion and road closures. The Incline will resume normal hours of operation (dawn to dusk) on Monday, August 17. See complete Manitou Incline rules here.