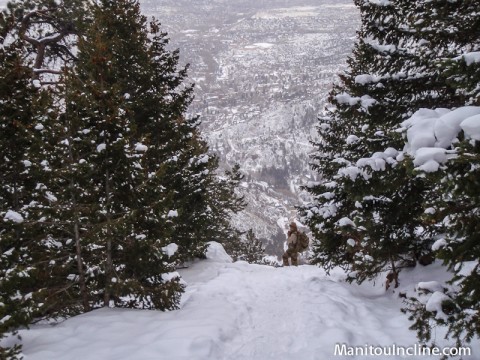 I hiked up the Incline late Sunday afternoon. There was a small amount of fresh snow from in the morning but it was no longer snowing.
On the lower part, I could see ice under the snow from where the sun had melted the snow on Saturday. The upper part was just snow packed. Even though there wasn't much new snow, there was still the most snow I've seen on the Incline this winter as there is still snow from the last couple storms.
The social trail to Barr Trail and Barr Trail were pretty much like the Incline. Where the sun hit it on Saturday, there was ice under the fresh snow and where it had been shaded it was just snow packed.
It's definitely not safe to be doing the Incline in these conditions without traction devices. If you don't have any, check out Yaktrax, Kahtoola Microspikes or Stabilicers Lite.
Below are photos from the hike.