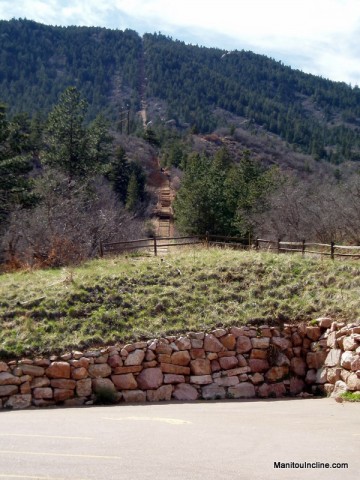 The Incline Friends group is asking for volunteers to help with a trail project beginning at 7:30 AM on November 5th, 2011.
Part of the plan for legalizing hiking of the Manitou Incline is to close the trail from Barr Trail parking lot up to the Incline. The official trailhead will be in the Pikes Peak Cog Railway's parking lot and there will be a trail connecting from the Barr parking lot.
Currently there is a social trail that cuts from the Barr Trail parking lot to the bottom of the Incline. Volunteers on Saturday will help reroute this short social trail to match the one in the Manitou Incline Site Development and Management Plan.
Those interested should plan to meet in the Barr Trail Parking lot. They should dress for the weather, bring work gloves, plenty of water and pack a lunch.
The workday is an important step in the process of legalizing use of the Incline. While citizen volunteers have organized successful clean-up days and made repairs to loose railroad ties, no official work has been done.
Creation of the Incline Friends group – which will soon become a nonprofit organization – was required in the Incline Management Plan. The group is responsible for education and outreach, as well as fund raising and volunteer coordination.