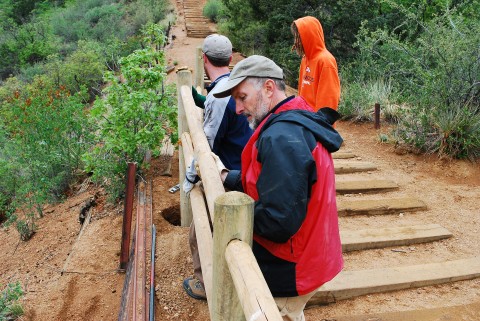 Last weekend the Incline Friends held a Manitou Incline workday and about 60 people helped out. Hiking the Incline is still illegal and most likely will continue to be so at least for another few months. In spite of the Incline still not being legal, the focus of the workday was implementing some of the provisions of the Incline Management Plan.
A fence was built around the Barr Trail parking lot. The social trail from the parking lot up to the Incline was covered up. A sign was put up at the bottom of the Incline with the Incline rules. The rules include the controversial no dogs allowed and dawn to dusk rules. The base for a donation tube was also installed.
Thanks to Tim Bergsten of Pikes Peak Sports for these photos of the workday.