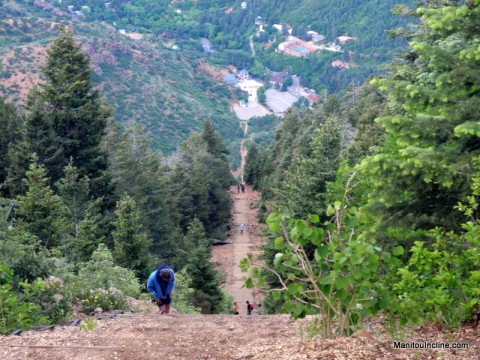 The Incline Friends have a major volunteer work day planned for the Incine for May 12th. You'll have the opportunity to be one of the first volunteers to help improve the Maintou Incline. Join the Cities of Colorado Springs and Manitou Springs, REI, Incline Friends, Trails and Open Space Coalition, and Friends of the Peak to help
Prune vegetation and remove rebar from the trail corridor
Install fence around the Barr Parking Lot
Close social trails
Install wayfinding signs
Rehab portions of Barr Trail
Parking is only available at Manitou Springs High School. Buses will transport volunteers to the Barr Parking Lot. Do not park at the Barr Trailhead parking lot as this parking will be reserved for recreational users.
Registration will begin at 7:30 a.m., with work starting at 8 a.m. Work will finish around 3 p.m.
The first bus will leave the high school's parking lot at 7 a.m., with the second bus leaving at 7:20 a.m.
Please dress in layers so you're prepared for our Colorado weather; closed toe shoes, water, work gloves, and lunch are a must! Sunscreen and hats are recommended.
Trail work is no fun for dogs, so please leave your pooches at home. This project is limited to those 12 years and older, children under 18 must be accompanied by an adult and have a waiver signed by a guardian. Sign-up for the work day at on the REI site.
Please note the Incline is not officially open or legal, hiking the Incline is still considered trespassing. Due to the nature of the Incline, trail work will range from moderate to difficult. If the weather is inclement please visit Incline Friends or Trails and Open Space Coalition that morning to see if the project has been canceled. If canceled the make-up day will be May 19th.
21 year old and over volunteers will get free coupons to enjoy a "tasting" of "Manitou Incline Malbec Wine" at D'Vine Wine in Manitou Springs immediately following the volunteer project.
The Incline Friends ask that you arrive prepared to work since you can hold up your whole group if you aren't prepared. You shouldn't have to run back to your car for anything. In the case of this work day, that would mean a long trek from the Barr parking lot back to Manitou High School. Being prepared means having your sun screen already applied, being appropriately dressed in long pants, sturdy footwear (no sandals), gloves to wear and (in your pack) another clothing layer or two, including rain gear, maybe a hat. You should have everything with you that you will need for that day: water, snacks, cell phone, sunglasses, sun screen (for re-applying as perspiration takes a layer away), anything you feel is important to have with you out on the trail, medicine, bug dope, etc.