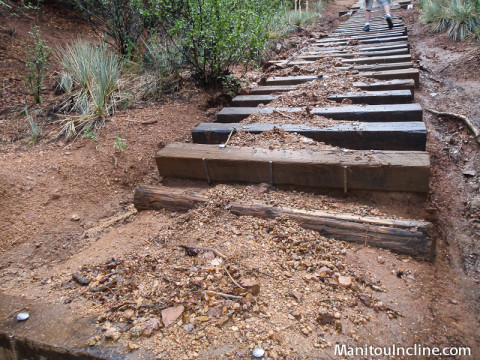 The Manitou Incline is constantly being eroding with it's steep grade. This summer's rains have been hard on the Incline. A planned workday in September got canceled since city resources to support the work day were needed elsewhere because of the flooding.
The Incline work day has been rescheduled for October 12th, 2013. Volunteers will meet at 7:30 AM in the Barr Trail parking lot with work commencing at 8 AM. Trail work will end around 1 PM.
The work day will be for trail clean up and some trail restoration. LA'AU'S taco shop will be providing lunch for volunteers.
Details are still being worked out but there may be a shuttle for volunteers from the Tajine Alami restaurant. Registered volunteers will be given details closer to the work day if there will be a shuttle.
To register, please call 385-6532 or e-mail Tilah Larson at tlarson@springsgov.com as they'd like an accurate head count prior to the work day. If you're able to go last minute and haven't registered, you can just show up at the Barr parking lot. Really try to register though since it'll help them plan work and lunch.
Check the Incline Friends site for the latest updates.