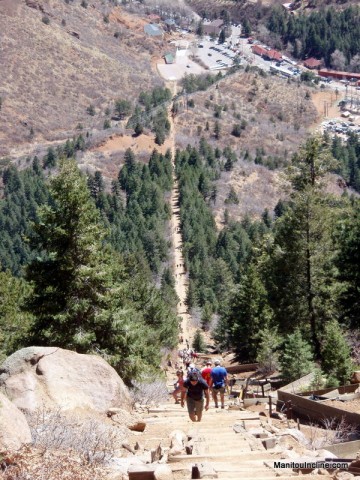 The next public meeting on legalizing hiking the Manitou Incline is tonight (Thursday, October 21st) at 7 PM at Manitou's City Hall. The draft Manitou Incline plan will be presented and people will be able to give their feedback. The plan is based on input from the Incline meeting in June plus 3 focused workshops held in July.
The Forest Service had estimated that about 70,000 trips were made up the Incline a year. To get a better count, the task force put an automated counter on the No Trespassing sign. In September it counted 23,562 hikers. I don't know if it was sophisticated enough to count just those going up or if it also counted people when they came down.
I know the couple times I was on the Incline in September there were probably only about half the hikers that I saw in June and July. The winter months see much lower usage so it's possible that's close to the average over the year. That would mean there could be 300,000 or more trips up the Incline a year.
The plan lays out 3 different stages, A, B and C. Stage A proposals are low cost for the most part and ares limited to management requirements for legally opening the Manitou Incline and critical improvements.
A couple things in the plan are hiking will only be allowed from dawn to dusk and that dogs won't be allowed. Go to UltraRob.com for more information on the draft Manitou Incline plan.