Heavy rains in the Pikes Peak region the last few weeks have created rumors that the Manitou Incline is closed because of the rain. The rains haven't closed the Incline but a plan to close the Incline for repairs was announced earlier this year. The current unofficial plan is for it to close on August 18th, 2014 for about 4 months. More details on the Incline closure and repairs is here.
Although the plan is for the Incline to be open until August 18th, it would be best not to wait until the final weekend to hike it. The Pikes Peak Ascent is on August 16th and the Pikes Peak marathon is on the 17th so Manitou and Barr Trail will be crowded that weekend.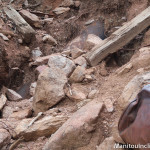 I hiked the Incline on July 23, 2014. I've been focused on training for the Leadville 100 mountain bike race so haven't been hiking the Incline much this summer. There has been considerable erosion since I last hiked it the beginning of the summer.
Most of the damage has been in the gullies along the sides of the Incline and not to the ties themselves. There were a few more ties missing and the gullies are cutting under the end of several of the ties. This was the first time I've seen the pipeline for the hydro plant exposed above the Barr bail trail.
We all love the rugged, jumbled character of the Incline and don't want to see it changed. However, it won't stay the same as it's constantly eroding. Take a look at the old photos on the Incline closure page. It's clear that repairs need to be made so we can continue challenging ourselves on the Incline for years to come.