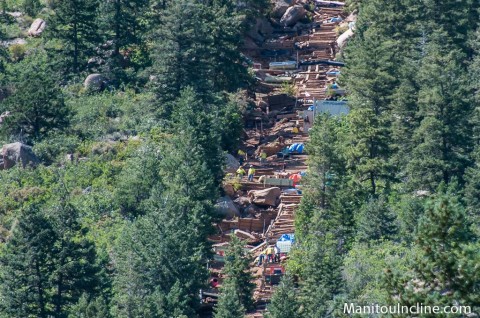 Timberline Landscaping has been working since August 18th to make the Manitou Incline safer and more sustainable. Tomorrow, Friday December 5th, the Incline will reopen to the public after a ceremony at the base of the Incline at 10 AM.
According to an Out There Colorado article, the helicopter made 90 trips with materials. 900 tons of gravel and 1,800 ties were used. The ties were used for steps, retaining walls and timber chases to divert water
KOAA has a nice preview of the work that was done. The workers were carrying packs with up to 100 pounds. Worker Antonio Benitez said, "At the end of the day you're legs are just crumbling. You're ready to get to couch and get a nap right away." The Out There Colorado article says Benitez lost 25 pounds while working on the Incline.
Some businesses are offering specials for the Incline reopening. SALUS Natural Body Care (906 Manitou Avenue) is offering a free bath bomb Friday and Saturday to those that go in and show a photo of them on the Incline. Through December 31st, Amanda's Fonda (3625 W. Colorado location) is offering an All Day Happy Hour for anyone that shows either a picture from the top of the incline or a parking stub.
Below is an interview at the top of the Incline on Thursday morning with Incline Friends president Sandi Yukman.