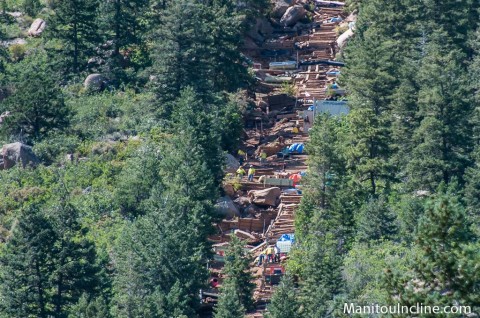 Update 12/1/14: The Manitou Incline will reopen at 10 AM on Friday, December 5th.
A lot of work has been done on the Incline over the last couple months. Much of it has been to reduce the erosion issues along the side of the ties. On the steep section where the ties were in the worst condition, a section has been replaced with new timbers. The new timbers are anchored into the mountain side to reduce the chance they'll slide down the slope.
Below you can see photos of some of the work done around the Barr bail trail. Note: these photos are courtesy of the Colorado Springs Park and Rec department and the Incline is still closed to the public during repairs.
The cold and snow last week slowed progress on the repairs. Not only does bad weather make it hard for the crews to work on the Incline but it affects scheduling of the helicopter that is being used to lift gravel and supplies up to the work site. The helicopter is only available when it's not being used on its primary contracts with other companies.
I spoke with the project manager, Sarah Bryarly, last week. She said the crew from Timberline Landscaping is working hard to stay on schedule. However, she thought that it's unlikely the Incline will open on December 1st but she expects that it'll still be sometime the first week of December.
Want to be one of the first few up the Incline to see the repairs? The Incline Friends are offering an opportunity to the first 30 people who donate $250 or more to the Incline through the Indy Give! campaign to get to climb the Incline a day early, before the official re-opening! Giving through Indy Give! also makes your donation go farther through matching funds.