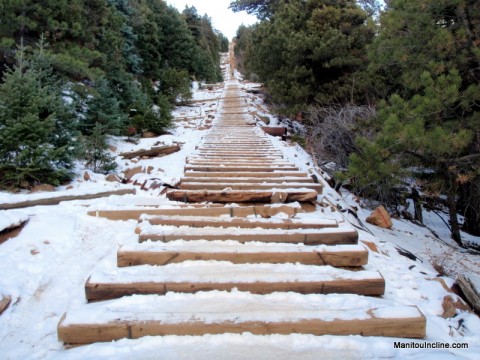 The sunny, warm days have continued to melt the snow from before Christmas off the Incline. There are still some snowpacked and icy spots though.
Here are the Incline trail conditions on Thursday, January 12th 2012. Most of the lower part of the Incline was clear. The Incline was snowpacked halfway up where the tracks split where it doesn't get much sun. Once above that section, it was mostly clear until the false summit. Above the false summit, it was snowpacked and icy.
The social trail to Barr trail only had a couple small icy spots. There were some icy spots on Barr Trail but it wasn't too bad. The worst is some of the icy spots have a thin layer of dirt & gravel over top so it's hard to tell that it's icy. There were a couple big shoe slide marks on those so pay attention.
Currently experienced hikers should be able to hike the Manitou Incline without traction devices as long as caution is used on the icy sections. Coming down the top section of the Incline could be tricky though. Carrying Kahtoola MicroSpikes, YakTrax, or Stabilicers Lite would still be a good idea.