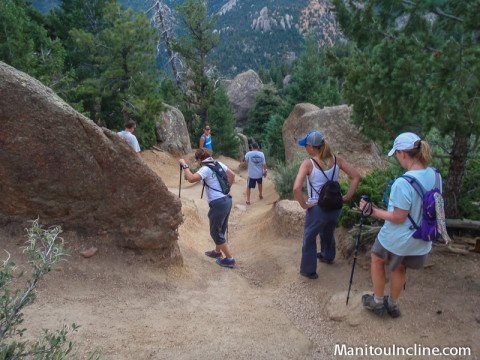 This Saturday, September 13, will be the first of 3 work days this fall for the Manitou Incline. The other 2 are October 11th and November 1st.
This first work day will be on the trail that connects the top of the Incline to Barr Trail. This connector trail has been a social trail with serious erosion issues and multiple paths. The social trails will be closed and a new sustainable trail will be built.
Participants must be 12 years or older, anyone under 18 must have a guardian accompany them during the workday. Check-in/late registration the morning of will begin at 7:30 a.m., in the Barr Parking Lot. The project will begin at 8 a.m., ending at 3:30 p.m. Please come prepared to work the entire day and hike 3 miles up Barr Trail to the project work site.
Tools will be provided and brought to the project work site by staff. You will need to bring and hike with your own gloves, water, hat, sunscreen and lunch.
You can sign up by going to the Colorado Springs Parks and Rec volunteer page and searching with the keyword "incline". The direct link for the September 13 work day is here