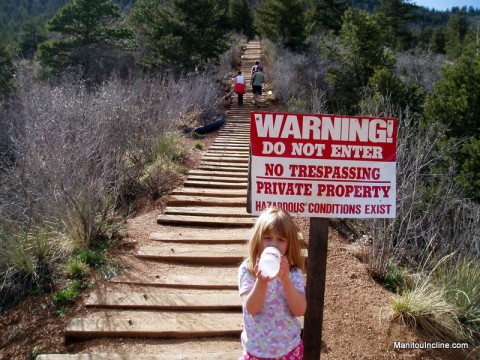 Hiking the Manitou Incline has continued to grow more popular even though it's illegal. The U.S. Forest Service has estimated that 70,000 people use the Incline annually.
This Thursday evening, June 24th, there will be a meeting to get public input on the Manitou Incline. It will be held at Manitou Springs City Hall, 606 Manitou Avenue, from 7 to 9 PM. Manitou Springs also has a project page with more information and maps of the Manitou Incline.


The following additional public meetings will be hosted in July at Manitou Springs City Hall.
July 13th – Traffic and Parking Focus Area Session, 6 – 9 p.m.
July 14th – Trails and Trailhead Focus Area Session, 6 – 9 p.m.
July 15th – Management and Operations Focus Area Session, 6 – 9 p.m.
The planning process is funded by Great Outdoors Colorado and the Hill Family Foundation. The final plan will be presented to the Colorado Springs and Manitou Springs City Councils in February 2011.
For more information, please contact Aimee Cox at 719-385-6532 or aicox@springsgov.com.
THE INCLINE IS PRIVATE PROPERTY AND POSTED NO TRESPASSING. PUBLIC ACCESS ON THE INCLINE IS NOT ALLOWED. TRESPASSING ON THE INCLINE IS ILLEGAL.