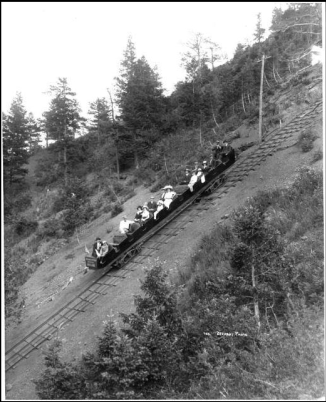 The Manitou Incline isn't the only incline that was built in Manitou Springs. An incline railway on Red Mountain operated intermittently from 1912 to 1922 and is associated with the famed story of Emma Crawford. There was a bar and dance floor at the top.
Manitou Springs Heritage Center volunteer David Walker has assembled information, photos and artifacts from the Heritage Center's archives and other collections. "It was a challenge tracking down information on the Red Mountain Incline. Compared to the more famous Manitou Incline, it was almost like this second funicular railway didn't want to be found." stated Walker. "A last minute find of images in the Old Colorado City History Center and Tom Daniels collections was like striking gold!"
As part of Manitou's Third Friday ArtWalk, tonight the Manitou Springs Heritage Center is opening its newest exhibit titled "Red Mountain – Manitou's Other Incline". The exhibit opening will be from 5-8 PM, Friday, August 15th. The Manitou Springs Heritage Center is located at 517 Manitou Avenue.
The same evening anyone looking for something to do after the Third Friday ArtWalk can find out "What Goes Bump in the Night" during a Paranormal Investigation hosted by the Heritage Center. Participants will go ghost hunting with the experienced, Manitou-based Haunted Dimensions team of investigators using their equipment. Tickets are $10 and participants meet at the Center at 10 pm. No reservations are necessary.
For more information and contact info, check out the Manitou Springs Heritage Center website.