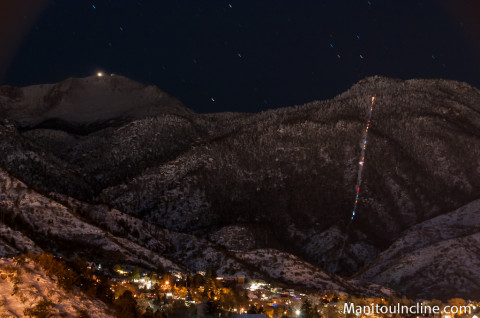 With the Broncos headed to Super Bowl 50, Sam Chambers came up with a plan to turn the Manitou Incline orange to cheer the team on. He encouraged people to hike the Incline on Wednesday evening, February 3rd with orange lights. About 50 people accepted the challenge in spite of over a foot of new snow the beginning of the week.
It was quite impressive seeing the orange along with a few blue lights moving up the mountain. The inspiration for the lights on the Incline was a photo with red, white and blue lights that Sam helped Dan O'Sullivan Photography create after the 2015 Paris terrorist attacks.
A time lapse video of the event is posted on Facebook. Click here to see it.
Note that the official rules for the Incline prohibit hiking the Incline from dusk until dawn.