Trailhead
By
UltraRob
on Thursday, April 22nd, 2010 |
Comments Off
The bottom of the Manitou Incline is close to Ruxton Avenue in Manitou Springs. When hiking the Manitou Incline, the important thing is to not park in the Pikes Peak Cog Railway's parking lots or their spaces on Ruxton. Either park in the Barr Trail parking at the end of Hydro Street or down Ruxton past the Iron Springs Chateau Melodrama.
The Barr parking lot costs $5 for 24 hours and can be paid for up to a week at time. The parking pay kiosk only takes credit card and not cash. Even though the Barr parking costs, it is full a lot of the time. In the summer you generally have to be there before 6 AM to find a parking spot.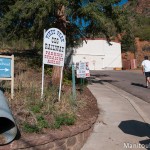 The bottom of the Incline is behind the upper Pikes Peak Cog Railway parking lot. There's a trail that drops down by the electric substation from the Barr parking lot and then over to the Incline bottom. If you've parked down Ruxton, you can cut up through the Cog Railway parking lot to get to the bottom of the Incline. Just past the townhomes on the right, there's a steep drive and a sign that says future Incline trailhead (click photo to get larger view). Walk up there and go to the back of the parking lot.