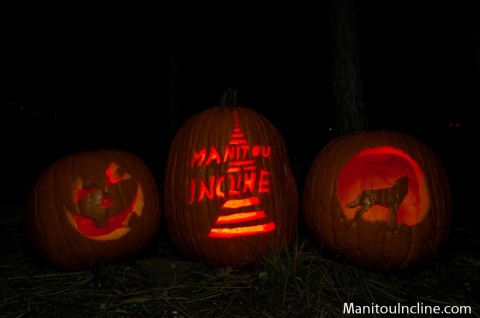 This past weekend I carved up a Manitou Incline jack-o-lantern. I've had this shot as the cover photo on the Manitou Incline Hike Facebook page for a few days.
I was inspired by the great Incline Friends pumpkin that Roger Austin took to the top of the Incline last year. Roger also did another Incline pumpkin the year before.
Like Roger I planned to take the pumpkin to the top of the Incline. It was a fair sized pumpkin and barely fit into my large backpacking pack.
Last evening I loaded up the pumpkin and hit the Incline a little before dark as the last few hikers of the day were coming down. I knew it would add to the challenge of the Incline but I used to carry my daughter up in the backpack. The pumpkin wasn't as heavy as my daughter when I quit carrying her up but I still definitely felt it.
I got to the top of the Incline and prepared to shot some photos of the pumpkin. I had it sitting just above the top tie. I was trying different camera angles before setting up the tripod.
As I was looking into the camera view finder, it appeared the pumpkin was moving. Sure enough it fell over and started rolling. It quickly disappeared into the darkness and I could hear it shattering into pieces on the ties below.
Once again Roger carved a great Incline pumpkin and hauled it to the top this morning. He takes better care of his pumpkins and got this shot of his latest one.