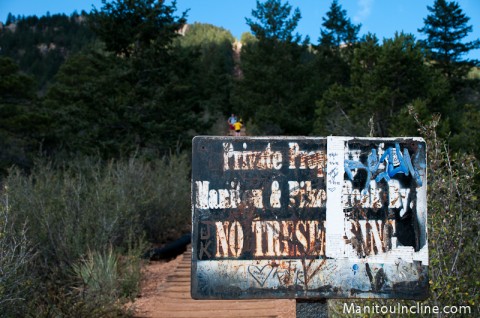 Last night the Manitou Springs city council voted 6-0 for the resolution allowing recreational use of the Manitou Incline. Now there's only a couple days left for normally law abiding citizens to break the law by trespassing on the Incline. The Manitou Incline will be legal for hiking starting Friday, February 1st at dawn.
The Incline Friends are planing a celebratory hike of the Incline Friday morning at 7 AM. Meet at the bottom of the Incline to join them. An official celebration is being planned in March.
Many thousands of hikers and fitness enthusiasts have passed by the no trespassing sign on the Manitou Incline. This first no trespassing sign was put on the Incline in the summer of 1999. The first sign was right in the middle of the tracks and kept being pulled out.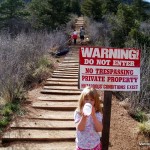 The following summer the metal sign that is familiar to so many people was installed and was more to the side instead of right in the middle. Whether it was because the sign was to the side or it was installed better, that sign has withstood over a decade of trespassers.
There were a few years when the metal sign had a red and white sign bolted over it. It eventually disappeared and it was back to the bare metal no trespassing sign.
The sign belongs to the Pikes Peak Cog Railway and is to be donated to The Pioneer Museum. There was a rumor that the no trespassing sign that has stood for so many years didn't quite survive to the opening of the Incline and disappeared over the weekend. Fortunately the rumor seems to be false and there are plans to remove it before it does disappear.