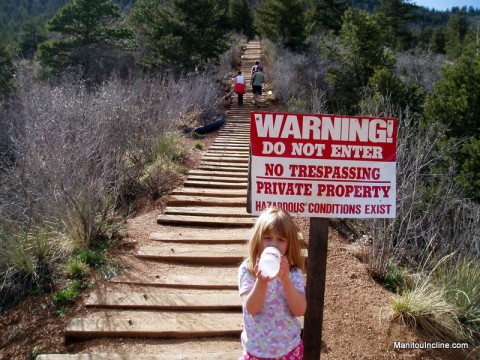 The first of a series of public meetings about the Manitou Incline took place on June 24th. Over 100 people attended that workshop. There are 3 more focused workshop sessions this week. They are all at Manitou Springs City Hall from 6-9 PM.
July 13th – Parking/Traffic
July 14th – Trails/Trailheads
July 15th – Operations/Management
It's good things are moving forward for the Incline to be opened to the public but with governments and committees involved the process is inching it's way slowly forward. It'll be late spring of 2011 at the earliest before it is legal to hike the Manitou Incline. Manitou is doing a good job of posting updates online. Here's the current time table.
June 24th – General Public Workshop
July 13-15th – Focused Public Workshops
October 21, 7 PM – Public Review of Alternatives
January 2011 – Review Draft Preferred Plan
February – March 2011 – Review Final Plan
? – Land Owners and City Governments Approve Plan
Not surprisingly the biggest issues discussed at the June meeting were parking and traffic congestion on Ruxton Avenue. Residents on Ruxton have legitimate concerns that traffic jams could prevent emergency vehicles reaching their houses quickly in case of a fire or medical issue. Concerns were also raised about erosion, safety, trail etiquette, wear on Barr Trail, dogs, etc. You can see more feedback in the Workshop 1 responses document.
The goal of the first meeting was to identify issues and come up with possible solutions. Attendees were encouraged to share ideas even if they didn't think they'd be implemented. Some ideas were to have a shuttle and the closer you parked the more you would pay, have clunker bikes down near Soda Springs that could be borrowed to ride up to the Incline, a new trail for Incline users to get down so that other hikers could enjoy Barr Trail and more.
A lot of effort is going in to creating a plan but creating a plan will not open the Incline to the public. That will still be up to the owners of the land which are Pikes Peak Cog Railway, Colorado Springs Utilities and the Forest Service. If the 3 owners approve the plan, then it will have to be re-zoned. About the bottom half of the Incline is within Manitou Springs city limits and isn't zoned to allow it to be used as a recreation area. That of course means more meetings and time.