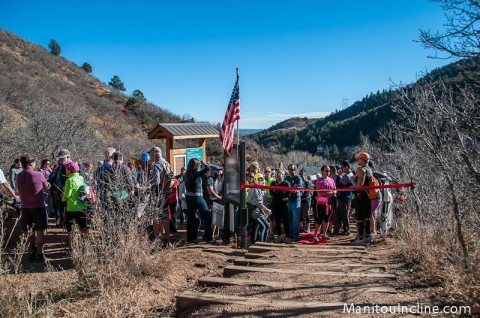 Click here for 2017 Manitou Incline calendars
The Manitou Incline reopens on December 2nd, 2016 after a celebration ceremony and ribbon cutting with Olympic athletes at 8:30 AM. The Incline has been closed since August 22nd for a second phase of repairs. This time work was done from the bottom of the Incline up to where the repairs were made in the fall of 2014.
There are a few specials for the reopening. The Starbucks at 3104 W. Colorado Avenue will be offering ANY grande beverage for only $2.00 from Friday Dec. 2nd through Sunday Dec. 4th. Manitou Springs will be handing out free bottled water to riders of the free shuttle from the free Hiawatha Gardens Parking Lot on Saturday from 7 until 10 AM. Also on Saturday, the first 300 riders of the shuttle will a gluten free mini-donut and coffee from The Market.
While the Incline was closed, Manitou Springs drastically increased parking fees and fines close to the Incline. Upper Ruxton has also become part of the Residential Parking so parking is only allowed Monday – Friday from 8 AM to 4 PM. Parking on Ruxton when allowed is $10 PER HOUR. Letting your meter expire or parking outside of allowed hours will result in a $70 fine for first offense, $100 for 2nd and $150 for 3rd.
Parking in the Barr Parking lot is only available with a reservation from parkbarrtrail.com (redirects to the paid parking company's website). Although the Manitou Springs mayor, Nicole Nicoletta, has mentioned a few times that reservations were coming, it was announced late Thursday afternoon that it'll be effect on Friday for reopening. Details on how it works are not clear at this point other than it costs $20 (plus $2.40 fee) for a day or a 4 hour period. A $15 refund is supposed to be available at Barr Camp. Fines are also $70 for first offense, $100 for 2nd and $150 for 3rd.
Ok, it's pretty clear the Manitou doesn't want people parking near the Incline. They want everyone parking at the free Hiawatha Gardens Parking Lot at 10 Old Mans Trail. The free shuttle stop is across the street on the east side of Manitou's Memorial Park. The shuttle runs about every 20 minutes from 6 AM until 6 PM this time of year.
If you're under a time crunch and want to park close, Iron Springs Chateau is your best option. It's $5 to park for the day until 5 PM. The next best option is to park at the Pikes Peak Cog. Their parking is $10 for up to 3 hours from dawn to dusk if they don't need all the parking for cog customers.
Manitou Incline regulars are excited to have the Incline open again so it'll probably be quite busy this weekend. If you go, please be safe and enjoy yourself.